Dhwani Polyprints Pvt Ltd Wins First-Ever 5-Star Review on Clutch
As we enter 2022 in just a month, it's safe to say that we can expect some level of changes in the manufacturing landscape. While vaccination efforts have helped significantly in controlling the pandemic, it's guaranteed to still have an influence in the industry for the coming year.
Here at Dhwani Polyprints Pvt. Ltd., we pride ourselves as one of the few suppliers of specimen bags during the onset of COVID-19. These bags were consequential for testing, sampling, and storage purposes in labs around the US. As a veteran in the manufacturing and packaging space, our services have become sought-after by renowned enterprises.
We believe that we've provided a significant impact in combatting the pandemic. These efforts are rooted in the desire to help our partners accomplish their business missions. As such, we're proud to share with you that we've received our very first 5-star review on a market research platform!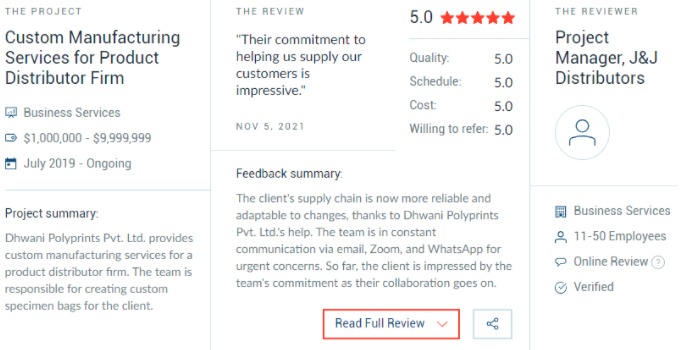 A B2B ratings and reviews firm in the heart of Washington, D.C., Clutch connects businesses with the best-fit agencies or consultants they need to tackle their next big business challenge. Clutch covers hundreds of different services from IT to advertising and marketing and ranks service providers based on a range of factors, including past clients and experience, verified client reviews, and market presence.
The first review in our list of many-to-come is from J&J Distributors, known as one of the large distributing companies in the US. Back in 2019, the client company engaged with us to secure supplies of custom specimen bags. This would birth an ongoing long-term relationship between us and J&J Distributors.
In their interview with the B2B platform, the client company shared the successes we've achieved together in this partnership.
"We sent them samples to review, and they recommended changes to improve the quality and practicality of the bag. The end result was a better product for the best price.
With the help of their team, our supply chain is now much more reliable and adaptable to changes."
— Project Manager, J&J Distributors
To learn more about this project, check out the full review on Clutch. Additionally, you can find us on the list of the top manufacturing agencies on The Manifest, Clutch's sister platform.
Let's discuss how we can help you with your manufacturing needs. Get in touch with us today!