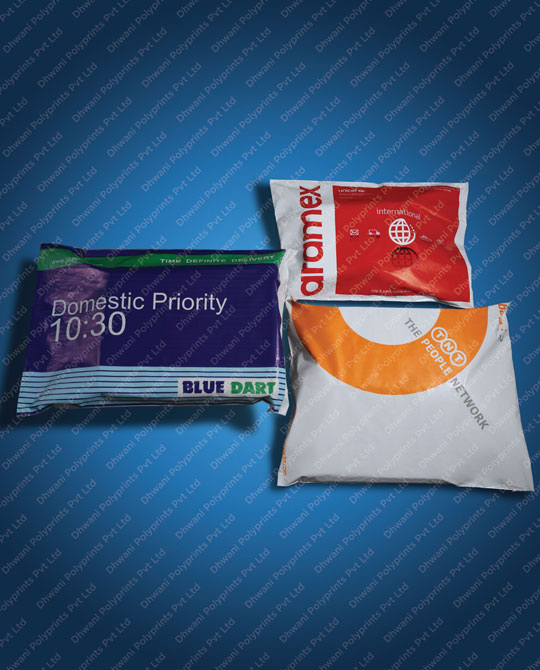 SoundSeal Polymailers or Courier Bags, as they are more popularly called in India, are what courier & e-commerce companies prefer to use during the transit of packages due to their versatility and ease of use. In the courier business, it's paramount that the goods reach safely and without the fear of tampering. SoundSeal Polymailers are made to serve this very purpose. A perfect blend of functionality and cost, it's imperative for courier and logistic companies to use these bags in transit.

Poly mailers are a popular choice for courier, e-commerce and logistics companies in India due to their versatility, ease of use, and tamper-evident properties. SoundSeal Polymailers are specifically designed to provide an extra layer of security to prevent unauthorized access during transit.

In addition to their security features, polymailers are also cost-effective and lightweight, reducing packaging and shipping costs for businesses. They are ideal for shipping non-fragile items such as clothing and books safely and securely.

Overall, poly mailers are an essential packaging solution for the courier and logistics industry in India, ensuring that goods reach their intended destination safely and without any tampering.

We prioritize environmental sustainability and have incorporated recyclable materials into our Polymailers. After use, they can be easily recycled, reducing waste and contributing to a greener future.

At Dhwani PolyPrints, we take pride in delivering high-quality products and exceptional customer service. Our team is dedicated to meeting your specific requirements and ensuring a seamless shipping experience.

Choose our Poly Mailers for reliable and secure packaging solutions. Place your order today and discover the difference they make in protecting your valuable shipments.

Made from coextruded PE films.
Hot melt adhesive strip on the top which ensures that parcels once sealed cannot be removed from the bag without tearing the envelope Easy to write on with a permanent marker
We run a stock program for these bags. To buy these bags online please click on the following link: www.soundseal.in/shop
Daily business & personal mailing for sending various items such as correspondence letters, brochures, samples, office documents and other confidential and important documents and articles.
Custom printing according to the customer's requirements in upto 8 colours.
Customised sizes for larger orders.
A POD jacket can be added on the back side of the bag.
Envelope with a window.
Option to make bags with a higher percentage of recycled content.
Industries
FAQs
Due to their light weight and small size, poly mailers cost less per shipments when compared to boxes
Poly mailers are lightweight, sturdy plastic bags that are designed to ship light and less fragile items. They are a great alternative to standard packaging. They help eCommerce sellers cut back on packaging and shipping costs because they are affordable and take up less space on carrier's vehicles while on transit
Courier bags are made of 100% co-extruded polyethylene. They can be customised to included upto 90% recycled material.
The minimum order quantity is 5000 units/size for customised and 250 units/size for stocked polymailers.
Polymailers are popularly known as Courier bags in India. They are also know by other names such as mailing bags, ecommerce bags, mailers, shipping bags, etc.
Our related packaging products
Contact Us
Thank you for getting in touch!
We appreciate you contacting Dhwani Polyprints Pvt Ltd. We will be in touch with you shortly.

Have a great day!