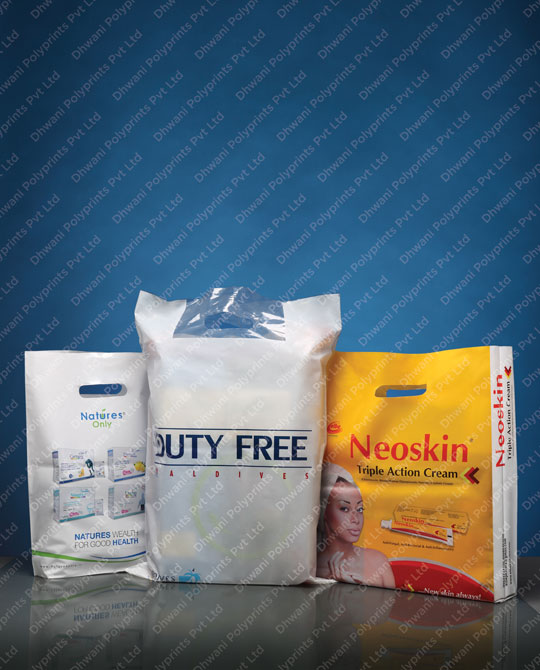 A very important branding element for any retailer is the bag in which the customer takes out their purchased merchandise. The quality and aesthetics make a big impact on the perception of the brand by its customers and others who come in contact with it. Here, at Dhwani Polyprints, we allow you to customize your bags in terms of design and features, with unlimited colour options, clear or opaque film, sizes, etc.

Shopping bags are an essential element of any retailer's branding strategy. A well-designed bag can convey the identity of the brand and leave a lasting impression on customers. The customer's shopping experience can also be improved by using bags that are both attractive and durable.

Our shopping bags are customizable in terms of design and features to meet the specific requirements of retailers. We offer unlimited colour options, clear or opaque film, and different sizes to choose from. We use high-quality materials to ensure the bags are durable and long-lasting.

Our shopping bags come with reinforced handles to make them easy to carry even with heavier items inside. With our customizable shopping bags, retailers can showcase their brand identity and leave a lasting impression on their customers.

At Dhwani Poly Prints, we understand the importance of sustainability. That's why our Shopping Bags are reusable, providing an eco-friendly alternative to single-use bags. By opting for our reusable bags, you contribute to reducing waste and promoting a greener planet.

Elevate your shopping experience with Dhwani Shopping Bags - a blend of style, durability, and eco-consciousness. Shop with confidence and make a positive impact on the environment.

The shopping bags are made with quality plastic and can be recycled.
Made with co extrdude PE films.
Can be made with a soft loop, die cut, welded patch handle
Can be made with bottom or side gussets.
Best used in retail stores, malls, standalone stores, and during trade shows.
Custom printing in upto 8 colours.
Mulitple bag construt and carry options.
Mulitple packing options to enable down the stream distribution.
Industries
FAQs
Shopping bags are medium-sized bags, typically around 10–20 litres in volume, that are used by shoppers to carry home their purchases
At Dhwani Polyprints shopping bags are made of co-extruded PE films
The minimum order quantity is 50,000 units
Majorly shoppping bags are used in the retail industry
Our related packaging products
Contact Us
Thank you for getting in touch!
We appreciate you contacting Dhwani Polyprints Pvt Ltd. We will be in touch with you shortly.

Have a great day!