5 Different Types of Plastic Packaging You Need For Your Business
Wherever you turn your head, you'll see items packed in plastic, and every single item uses one form or the other. It is evident that plastic is a very common material for packaging. From e-commerce essentials to supermarkets, plastic packaging is ruling the industry. 
We can't agree to a fact more than this, right? It is light, durable, and is cost-efficient as well. There is a bag full of reasons why plastic packaging is so beneficial. Before we discuss the advantages, there are a few other things that you should be aware of. 
Over the course of time, plastic has gone through tremendous innovative changes. Packaging bottles have brought a whopping 64% reduction in weight, and weight is an important part of hassle-free shipping. 
There are so many different kinds of plastic packaging that we come across every day. So, before moving on to its benefits, Let's look at different types of plastic packaging. 
5 Types Of Plastic Packaging
Here, we will be discussing different types of plastic packaging used in the e-commerce business. 
Without further ado, let's head to it then!!!
1. Polymailers
Ever received banking or other credential documents? Well, you must know that you are already using this plastic packaging in the form of courier bags. Yes, poly mailers are the most widely used packaging in eCommerce, courier, banking, education, and other industries. 
It is made from co-extruded PE films with an adhesive strip on the top to avoid tempering. Polymailers are also a type of tamper-evident packaging. As a matter of fact, it is tough and is used in several places. Such as for personal and official mailing, letters, samplers, brochures, and tons of other objects. 
At Dhwani, poly mailers are available in 8 different colors and custom sizes.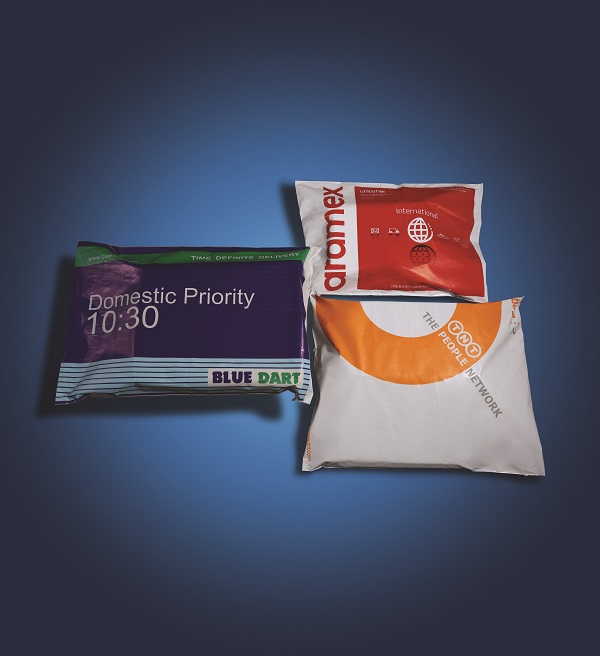 2. Air Bubble Packaging 
Another very common plastic packaging is air bubble packaging. Protruding air-filled hemispheres are filled in a plastic bag to provide cushioning for fragile items. Air bubble packaging is flexible and transparent in appearance. 
More often than not, air bubble bags are used in packaging for crockery and glassware. You can also find this packaging handy for different purposes, such as packing fragile decorative items, glass medicine bottles, cosmetics, and expensive items among others. 
The best part of using air bubble packaging is that it can be reused. Plus, this also offers hassle-free and safe shipping.
3. Zip Lock Bags
Do you like fresh food? If you do, then zip-lock packaging is something you are very familiar with. Often known as Ziploc, this kind of plastic packaging is used in homes for storing food, random households and businesses use these bags for holding cash, and medicines, keeping documents in good shape, and so on.
Well, zip-lock bags have many more uses than just holding your sandwich or chips. They are durable, sealed, and made to last, so they can be reused.
At Dhwani, we specialize in manufacturing zip-lock bags. Bringing our expertise in security bags (tamper-evident bags), we are offering durable bags with the convenience of a zip seal.

4. Draw Tape Packaging
Used for hassle-free storing and shipping, draw tape packaging is preferred in many industries. Talking about the advantages of using draw tape bags, are manifold. Draw tape bags are available in different sizes and compositions so you can use them as per your needs. Plus, they are more economical and 100% recyclable. 
This kind of plastic packaging can be foamed but can also be rigid. It has insulating properties and can thus act as a moisture barrier. 
At Dhwani, we can offer you a range of draw tape bags available in different colors and sizes.  Get in touch now.


Explore More of Our Informative Blog Posts: What are Polymailers? Why do you need them?
5. STEBs
Water resistance is best suited for packaging, right? Well, STEBs bring you just what you need. Because they are regulated to increase passenger safety while traveling on planes, we make them from premium material adhering to the guidelines of ICAO. 
STEBs are typically made from co-extruded PE films. These secure tamper-evident bags are commonly used by duty-free shops, airports, seaports, and many others. 

Benefits Of Plastic Packaging 
Now that we know all the different types of plastic packaging let's move on to its benefits. Mentioned below is the detailed list of advantages of plastic packaging.
1. Can Handle Extreme Temperatures 
We have seen above that all types of plastic packaging have high melting points and are moisture and chemical-resistant. This is one of the top benefits of plastic packaging. 
From microwaving packaged food like lasagne to frozen food items, one thing in common is plastic packaging. Plastic can withstand extreme temperatures and is thus considered a major advantage for packaging.
2. Highly Durable 
Plastic packaging is highly durable, there is no doubt about it. Be it transporting or carrying heavy items, plastic packaging never fails to impress. There are many studies that show that plastic packaging is the key to hassle-free shipping and all of this because it is highly durable.
3. Plastic Can Be Moulded Into Any Shape
When packaging with cardboard, you are restricted because of its shape, but with plastic packaging, there is no such thing! Plastic can be molded into any shape without any hustle. 
The reason being plastic packaging is considered to be an ideal solution for all kinds of packaging needs.
4. It is Lightweight 
It is no news that shipping weight plays an important factor. If you use other materials, they add more weight to the product because of their own weight. Thankfully this is not the case with plastic packaging. 
Plastic is lightweight, so becomes an advantage for reducing the price and hassle-free shipping. 
And most importantly, we offer Recycled and Biodegradable options
We at Dhwani are committed to manufacturing innovative products while also ensuring environmentally friendly procedures. With an aim to give back to the Earth, we made a motto of procuring scrap plastic and recycling it, and using it in our innovative, high-end products. Our bags can be made with up to 90% recycled material
But this is not all, we have taken the initiative of offering the option of using biodegradable plastic as well. Instead of just hoping and praying for a sustainable future; we at Dhwani Polyprints, work towards it.
We hope you can now make a better decision as to why you should go for plastic packaging and what type to use.

Dhwani is a leading packaging solution provider, and we aim to provide you with a hassle-free shipping experience by offering the right kind of packaging. Explore our e-commerce packaging solutions online. Want to know more about how we can assist you? Call us now to find a solution to all your packaging needs.
Explore More of Our Informative Blog Posts: 5 Instances Where Tamper Evident Security Bags Will Help You For An