Did you know the right shipping bag can make or break your business? It is pretty limpid that the proper shipping bag ensures that your products are safely delivered to customers. Not only are shipping bags perfect for toting products, but they are also suitable for corporate branding. With plenty of choices available, choosing the right shipping bag is somewhat tricky. However, the two shipping bags that are in the limelight today include poly mailer bags and plastic bags. Here in this article, we will discuss the difference between poly mailer bags and plastic bags. Stride along with the article so that you can better understand which shipping bag is perfect for your business and customers. 
Decoding The Difference Between Poly Mailer Bags and Plastic Bags
Today, there are different types of shipping bags available in the market, but the two most prominent are poly mailer bags and plastic bags. Both come with their own uses. However, you must know which one is highly effective for your business. Let's try to understand each of them and their types.
What Are Poly Mailer Bags?
Poly mailer bags are lightweight but sturdy bags made of polymer material. These bags are exceptionally durable, pliable, and customizable to fit any application. Since this type of bag is designed using polystyrene materials, poly mailer bags are precisely thicker and designed as compact methods for securing products and merchandise. It comes in different sizes and dimensions. Further, they offer robust protection against dust, tampering, and moisture, which ensures that your goods are secure and in perfect condition.
What Are Plastic Shipping Bags?
Plastic shipping bags are one of the types of bags used for shipping items worldwide. These bags are made with low-density polyethylene (LDPE) and are thin and light. Plastic shipping bags are made from various plastic polymers, polyethylene, and polypropylene.
Explore More of Our Informative Blog Posts: What are the Benefits of Using Poly Mailer Bags For Transportation
Types of Poly Mailer Bags?
Polymailer bags are categorized by size, type, and material composition. You have the choice to ensure that you use a size of poly mailer packaging customized to your products and customers.
Bubble Mailers
As the name suggests, bubble mailer bags come padded with bubble wrap on the inside, and thus provide extra protection for the contents. Bubble mailers are best suited for high-quality, expensive, fragile goods that require extra in-transit protection from dents, breakage, and scratches.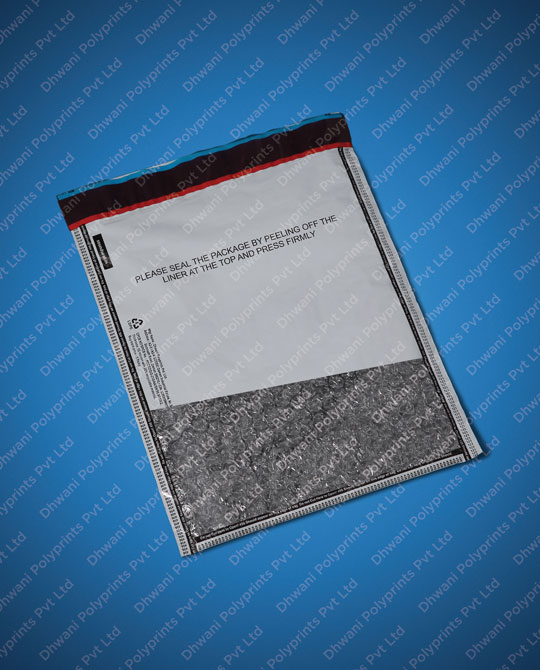 Layflat Poly Mailers 
Lay flat poly mailer bags are best for Items that do not require an additional layer of protection. This bag is cost-effective and works best for shipping, clothing, shoes, and other unpacked goods.
Clearview Poly Mailers  
This bag comes with a transparent front and resealable tape. They are also called resealable tape bags. It allows a clear view of contents when the package arrives at the customer's doorstep. Clearview bags are ideal for shipping items like books, magazines, catalogs, and journals.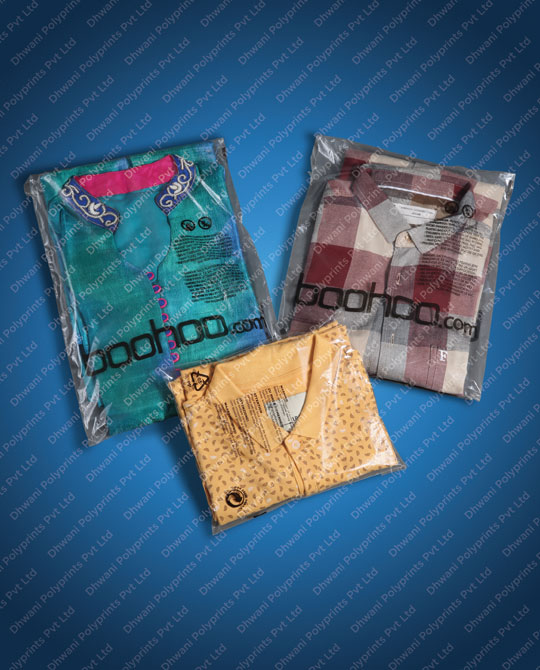 Types of Plastic Mailing Bags?
The variety of plastic mailing bags is determined by shape, size, material, and style. Here are the different types of plastic mailing bags are mentioned below.
High-Density Polyethylene (HDPE)
HDPE is one of the most common plastics used globally. It comes in a range of qualities – lightweight, transparent, water & temperature resistant, and has high tensile strength. Such bags are found in restaurants, grocery stores, etc.
Low-Density Polyethylene (LDPE)
This type of plastic mailing bag is used as food and utility bags, with moderate strength properties. Such bags are suitable for storing food and meat products. 
Medium Density Polyethylene (MDPE) 
MDPE is used as a garbage bag because such bags are commonly used in packaging paper products like toilet paper or toilet towels. Such bags are not preferred for carrying bulky items. 
Major Differences Between Poly Mailer Bags and Plastic Mailing Bags
Are you wondering which bag is perfect for your business? We have curated a list of significant differences between poly mailer bags and plastic mailing bags to help you know what kind of products they can ship. By the end of this article, you will be able to make a wise decision as to which bag is best for your brand and customers.
1) Recyclable Poly Mailers and Compostable Poly Mailers
As the name alludes, recycled poly mailers are made with recycled material. Such bags are a convenient option for eco-conscious brands, durable and moisture resistant.
When it comes to recycling, poly mailer bags dominate the industry. Why? Because these bags can also be made from compostable materials. They are designed in a way that the packs can be recycled after delivering products to your customers.
At Dhwani Polyprints, you can get both poly mailers made of up to 90% recycled material; as well as poly mailers made from compostable material.
Talking about plastic bags, only some plastic bags like HDPE can be recycled. 
2) Better Branding as Prints Look Better
Customizing shopping bags with your brand logo, name, and other details can take the business to new heights. Printing brand logos, colors, and images is only possible with poly mailer bags because these bags are made with good material, unlike plastic bags.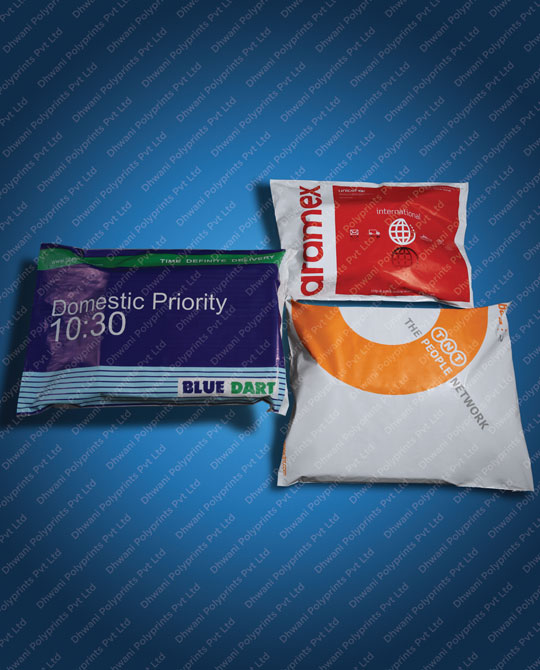 3) Doesn't Tear Easily
Though both bags are effective in storing goods, they can be torn if not filled correctly. Still, poly mailer bags play their role efficiently if you choose the right type of poly mailer for your products. 
Poly mailer bags are designed to help businesses in distributing products and keeping their contents secure during transit. When choosing the right type of poly mailer bag, there are filters and criteria that you have to consider to make sure you're picking the right one for your business.
Poly mailers made by Dhwani Polyprints are durable enough to contain your products securely. These bags have higher tear strength to carry any flexible or rigid product without any issues.
4) Come in Different Tamper-Proof Security Tapes
Poly mailer bags feature tamper-proof security tape – making bags highly secure and protected from thieves. Today, industries use poly mailer bags to safeguard their shipment and increase customer retention. In contrast, plastic shipping bags don't have a layer of security that makes them fragile and less prospective. 
Are you planning to buy poly mailer bags for your business? Dhwani Polyprints is here to offer you quality packaging products at affordable prices. We're a leading company offering top-notch packaging solutions. We aim to provide you with a hassle-free shipping experience for your business. For more queries, we're here to assist you. Contact us now.
Explore More of Our Informative Blog Posts: Poly Mailer Sizes For Clothing & Fashion Accessories